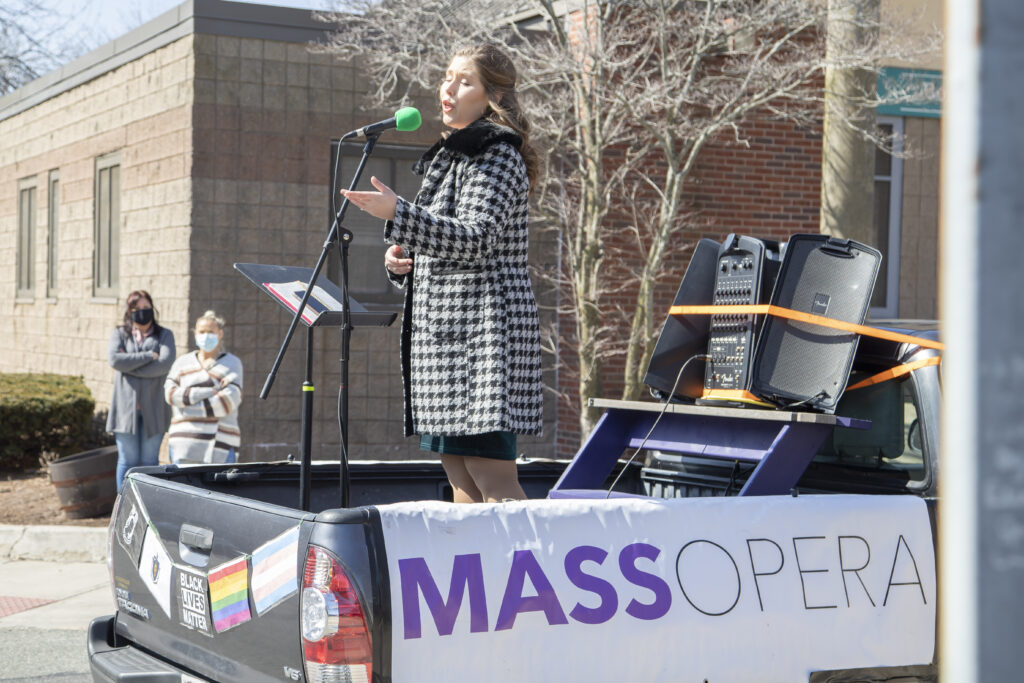 Singing for MassOpera's #SocialDistanceSing St. Patrick's Day event was one of the most rewarding gigs I have had. The mission of this type of performance encapsulates the essence of what it means to be a performer: Bring music to the soul. As a professional singer, you need to harness your skills and condition like an athlete. After a year of singing behind a computer screen, I really did wonder: Will performing like riding a bike? Will my brain retain all of these words? Will I have the stamina to sing for more than an hour?
The nerves started to kick in as I drove up to our first location.
I climbed onto the back of Dan's pick up truck – butterflies rushing through my stomach, performance anxiety in full force. Then a beautiful thing happened. A young boy rushed from out of his home, came up to the truck with a huge smile on his face, and asked to take a selfie with me. I was reminded then of my true purpose, to bring music to their souls. The music from "Die Fledermaus" began to hum from the speakers, and just like that all of my training flooded back to me and I was performing live again, for this first time…in a year.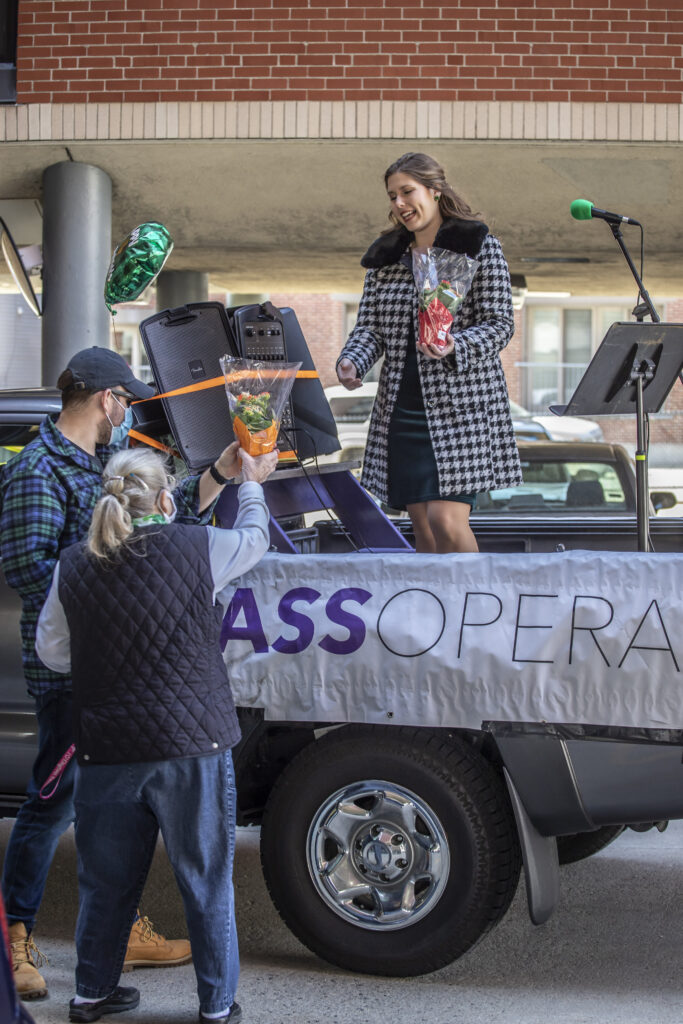 Every single location we visited that day held special moments like that first one. We pulled up to our next location tucked away in a cozy back alley. Two men were sitting in their utility truck having their lunch break. The joy and utter surprise they felt receiving a lunch time concert was both funny and heartwarming.
At another location, two elderly women thanked me with beautiful potted plants, which (to my surprise) they had snuck a $20 bill into. I had just lost my dear grandmother this past year, and their gesture made me feel as though she was there with me.
After I commented on a woman singing along to "How are things in Glocca Morra" with me, she divulged that she used to be a show girl here in Boston and in Las Vegas – singing show tunes. She recalled her times backstage giving "the women bottles of champagne, and the men bottles of Old Spice". She scorned her boyfriend for his intolerance of her performing career, and we laughed saying "I hope he was your EX!".
As I walked to my car, overwhelmingly fulfilled from the morning, a gentlemen sitting on a bench, drinking something nice and warm (it was St Patrick's Day after all) said his "heart was 'a ploomin'".
I sat in my car and burst into cathartic tears. Mourning the loss of live performance for a year, grateful for kind people, relieved that I did indeed remember how to sing live, and so very thankful for the role that music plays in all of our lives. It was the most perfect day.