This past 4th of July we at MassOpera tried something entirely new, launching a performance program entitled Social DistanSing!
Since it is still not safe for audiences to attend live music at public performance venues, we decided: "why not bring the music directly TO the audience?!"  With individual singers performing to pre-recorded tracks, and an impromptu stage made from the bed of a pickup truck, we shared incredible vocal music with both under-served communities and those working on the front lines, including low-income families, the elderly, the disabled, veterans, and hospital staff.  We had two amazing MassOpera Artists join our Co-Artistic Director Dan Ryan for a musical journey through several Greater Boston area communities: soprano, Abigail Whitney Smith and mezzo-soprano, Pier Lamia Porter. Both vocalists sang to excited audiences – and were able to do safely and from a distance! We also live-streamed much of this concert via Facebook.  If you missed our videos, please check them out by CLICKING HERE!
(Pictured above (L to R): Pier Lamia Porter, Abigail Whitney Smith, and Daniel P. Ryan)
Dan Ryan's play-by-play of the July 4th performances are detailed below, visualized with beautiful photos by Kat Waterman: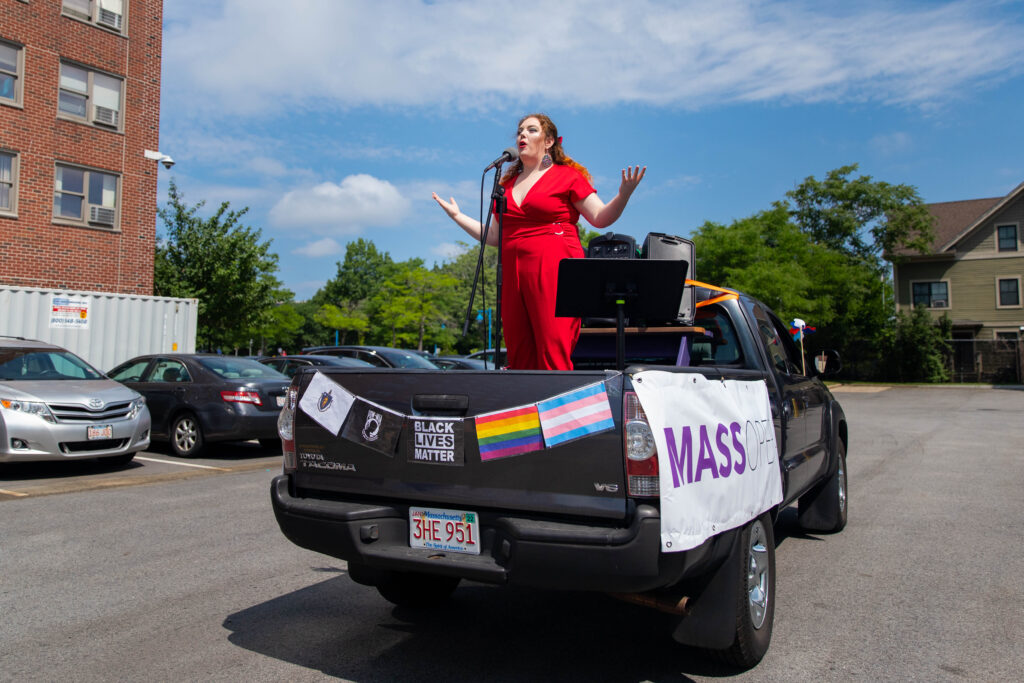 Venues 1 and 2 – Fresh Pond Apts and 402 Rindge Towers, Cambridge: Our first two venues in Cambridge were thrilling. There were about 1000 residents listening from their homes. People were waving from their windows; kids were dancing in the street – it was both emotional and magical. Many in the audience were moved to tears –including Abby and myself as we watched windows full of people applauding between songs.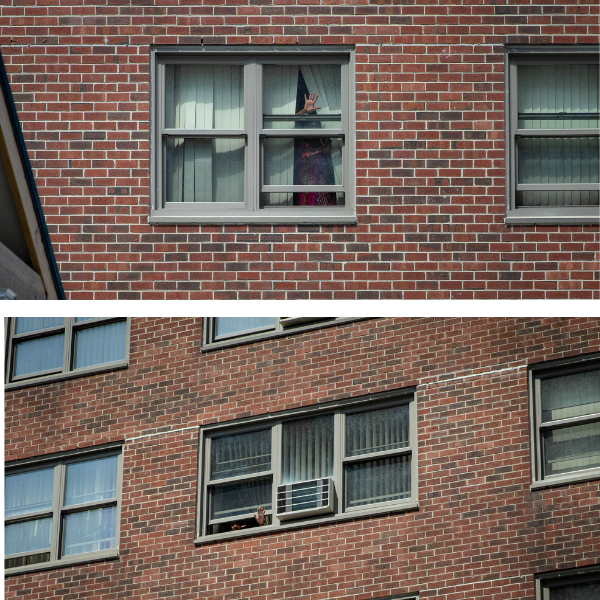 Special Stop 2b: During these first performances, a member from a nearby Black Lives Matter (BLM) demonstration walked over, thrilled to see what we were doing and to hear our music. We were able to move over to the Black Lives Matter demonstration area and perform part of the concert set for an additional hundred people participating in the BLM demonstrations. As we pulled up, Abby sang Somewhere for the group, moving the audience to tears.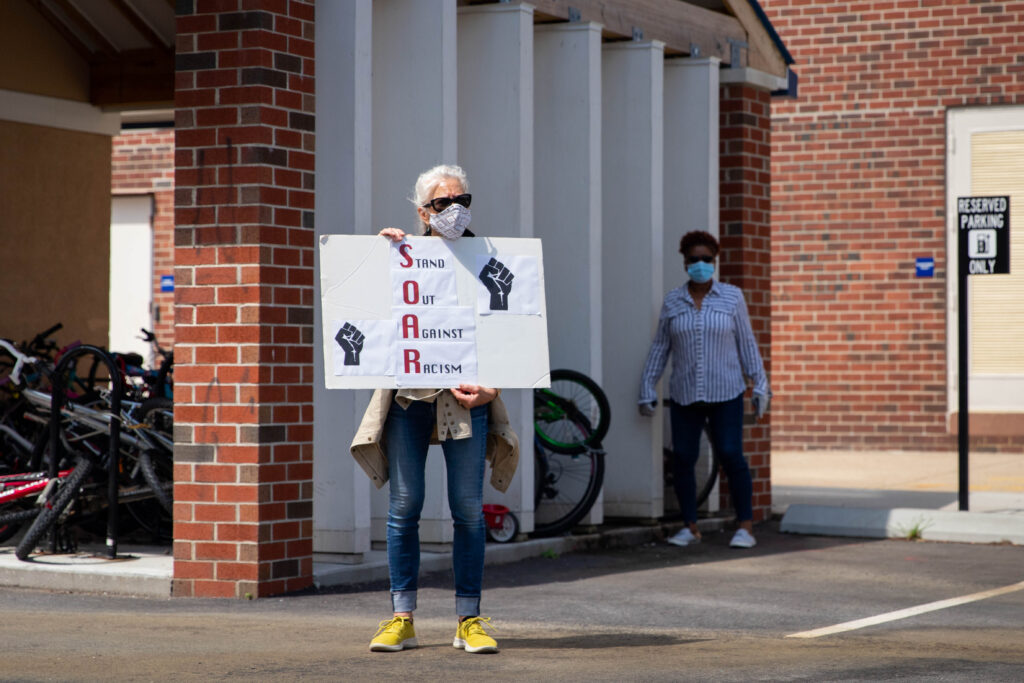 Venue 3 – Riverside Towers, Medford When we pulled into the complex people were waiting for us on their balconies and several people were safely distanced out on their lawns. Many people at this facility are mentally or physically disabled, and most people in this audience were able to watch the event from their homes. It was Mia's first performance of the afternoon. She sang beautifully and the concert was well received. The residents wanted an encore – and of course Mia was happy to oblige!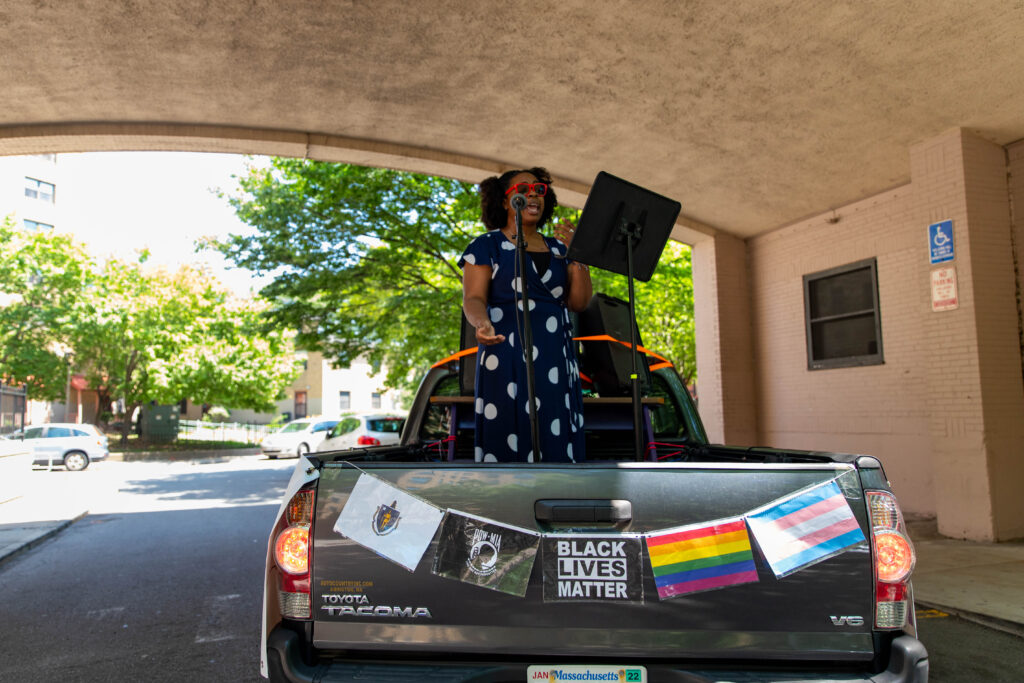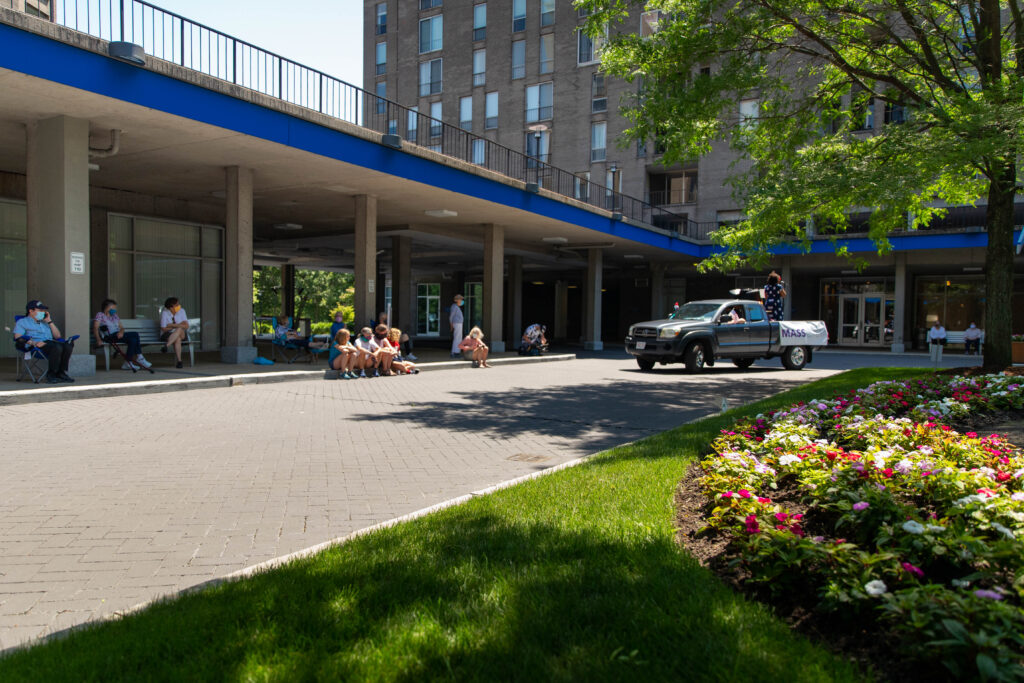 Venue 4 – Ruth Barkley Apartments, South End This was such a special performance! At this location we mostly had to keep our truck moving throughout the very large rotary layout of the common area, and it seemed to work great! Many residents were out on the curb watching safely from a distance. There were a few hundred people who watched and waved from their windows. This audience was filled with a mix of children, adults and elderly folks. One particular elderly couple followed our truck with their chairs. As our truck moved around the rotary, they would move their chairs to get the best possible view and sound.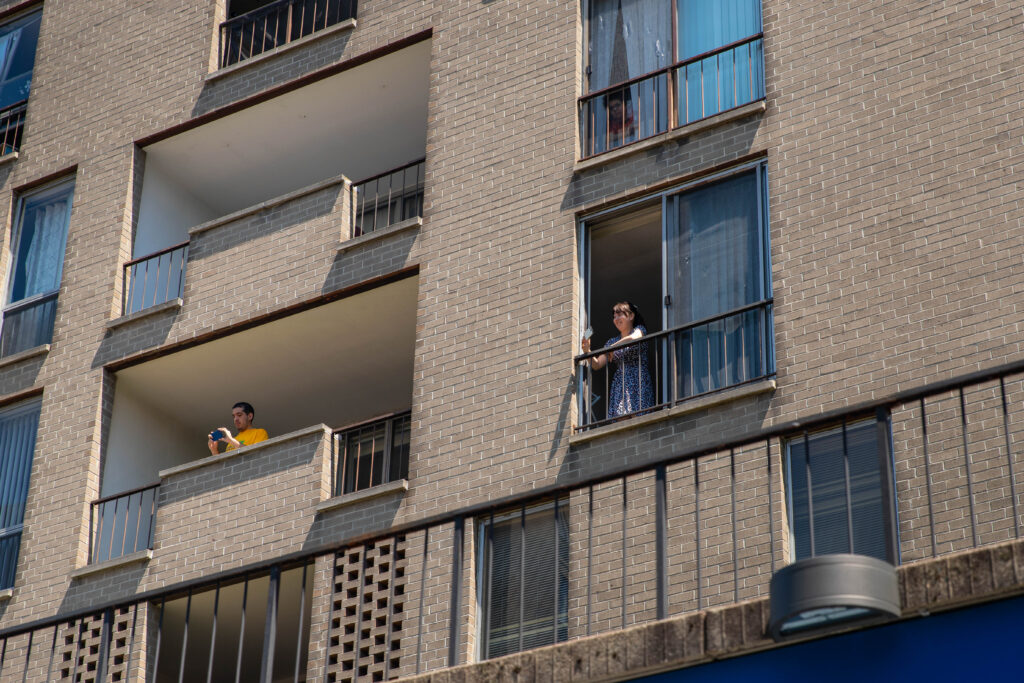 Venue 5 – Brookhouse, Brookline MA We rolled in to about 100 people all spread out waiting for us around a giant courtyard. This was the best acoustic of the day and we had an audience of about 500-600 people enjoying this performance from their homes. You could even see that many people were singing along to the music from their balconies! Mia gave a fantastic performance and brought the crowd to tears.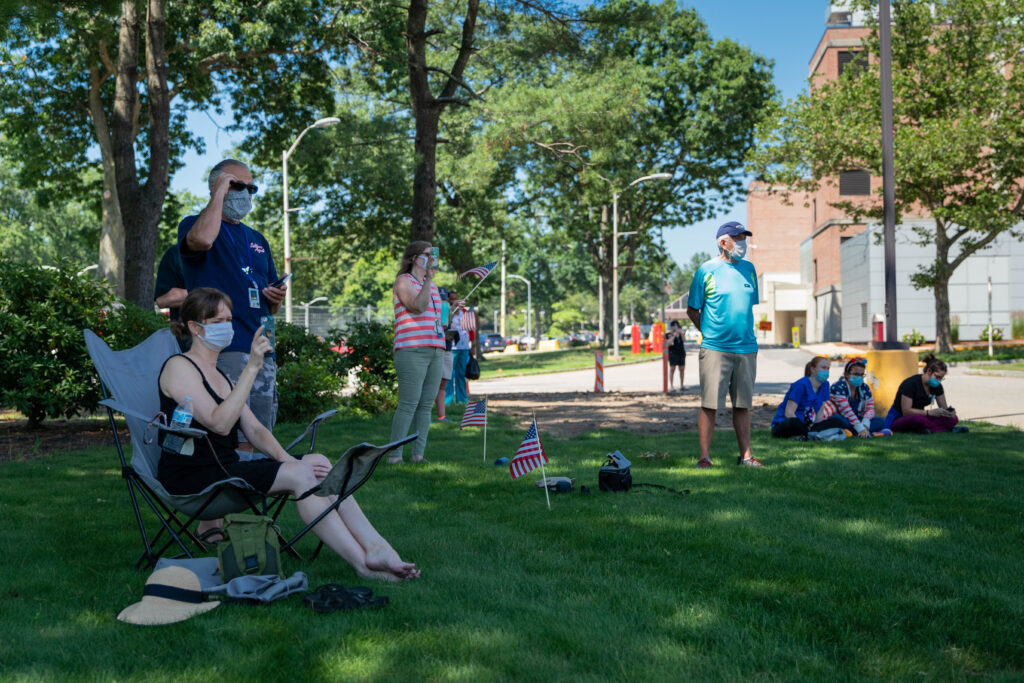 Venue 6 – The VA of West Roxbury – By the time we arrived at the Veterans Administration Hospital we thought we had hit our emotional peak for the day – we couldn't have been more wrong. I've been involved with so many different kinds of performances, and have never quite experienced anything like what happened at the VA during our July 4th DistanSing Concert. When we pulled in, the audience was spread out: doctors, nurses, family, and a row of veterans wheeled out by nurses to a safe spot where they could enjoy the performance. Abby was transcendent. There were tears from the very first note to the last. One nurse had to run to grab tissues for her patients and colleagues. We found out at the end our set that a wheelchair bound patient had a birthday on July 4th. Abby got the crowd (spread out over the size of a football field) to sing Happy Birthday to Mr. Jim Young. Of Course, what is Happy Birthday sung by an opera singer without the glorious soaring high notes at the end? Abby did not disappoint the crowd!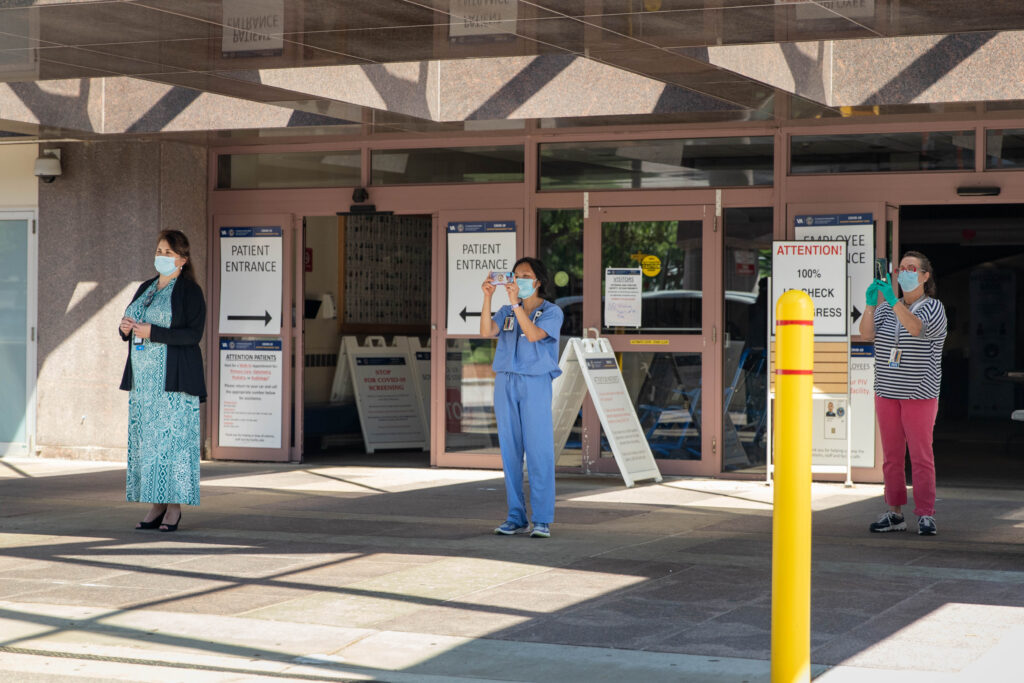 We then did the entire set again at the other side of the hospital and it was just as moving with many more doctors, nurses, and staff popping in and out. I don't even have words to express how special this stop was.
We know we are living in unpredictable times. On July 4th we experienced the transformative power of live music with folks listening through open windows and at safe distances outside. It was special, moving and thrilling all at once. We are also excited to learn that in the week since our first DistanSing performances, more housing complexes and apartments have reached out to us to inquire how they can be part of our next roving concert event.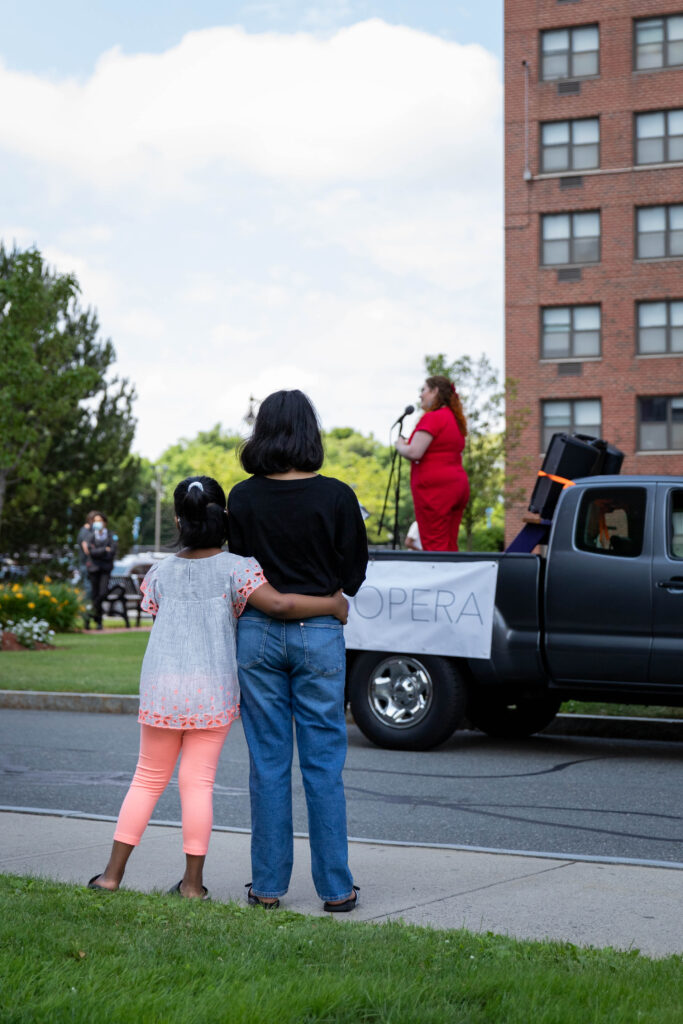 The generosity of our audiences and supporters like you help make this work possible, and we have lots more to do. For more information on how you can help support this important programming and community outreach, please click the banner below.